Reportage Photography Workshops with Nikon School Travel
Nikon School Travel is the best way to combine a passion for photography with the desire to be a traveller and not a tourist.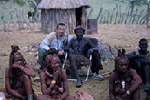 Edoardo Agresti, a professional photographer with Nikon Professional Services, will accompany the Photography Expeditions with Africa Wild Truck. He will be available to advise you according to your photography ability on the best way to use your gear.
But that's not all, in fact, you will have the incredible opportunity to try the best Nikon gear made available and free by Nital.
A trip is not simply going from one place to the next, but an incentive to see, admire, and to make your own, the rhythms, habits and life of the country visited. There is no place on earth not worth seeing and the pictures that one takes during a trip is the best way to keep the memories alive. Certain pictures allow us, even if seen years later, to remember the emotions experienced in the exact moment in which you snapped the picture. A picture, taken with the help of a professional photographer, will give you the possibility to obtain results that you will conserve as some of "The Best".
With Nikon School Travel you can have all this… a dream place, help on the premises with photography, and opportunities to take unique and unforgettable pictures.
Planned reportage photography workshop with Nikon School Travel
---