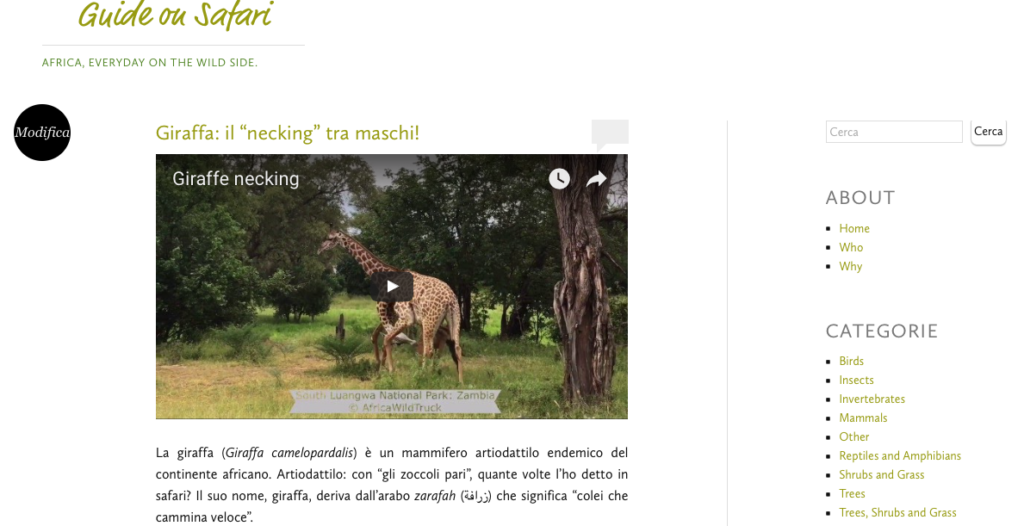 Guide on safari, from AFRICA everyday from the wild side.
Natura africana? Ti piace? Vuoi seguire da vicino qualche incontro?
Semplicemente vuoi sapere il perchè?
Ecco alcune delle motivazioni che hanno fatto nascere il nuovo Blog Guide on safari.
Ho la fortuna ed il privilegio di vivere in una delle più affascinanti regioni del Pianeta. In quel Continente da cui tutti, probabilmente proveniamo: l'Africa.
Un piccolo paese della Rift Valley, il Malawi,  definito "il cuore caldo dell'Africa", mi ospita dal 2007. Sono spesso in safari tra Zambia, Malawi, Mozambico e Tanzania.  A volte mi capita di essere in viaggio in Kenya o in Botswana.
Durante i safari, ho sempre l'occasione di conoscere nuove specie di uccelli, inconsueti comportamenti di animali, curiose tracce e straordinarie storie o leggende dal bush. A volte riesco a documentarli con una fotografia. Altre circostanze Francesca ne disegna abilmente i contorni o insieme scriviamo appunti per la guida naturalistica a cui stiamo lavorando. Una guida che molto probabilmente, vedrà la luce nel 2013.
Guide on Safari è una raccolta di queste piccole storie, un blog, "everyday on the wild side" che spero possa essere uno strumento per tutti gli entusiasti dei safari in Africa, per coloro che, sempre più numerosi, viaggiano per queste regioni o semplicemente per chi ha dentro di sè la curiosità di penetrare nel mondo naturale che attraversa.
Stefano Pesarelli
Guide on safari, from AFRICA everyday from the wild side.