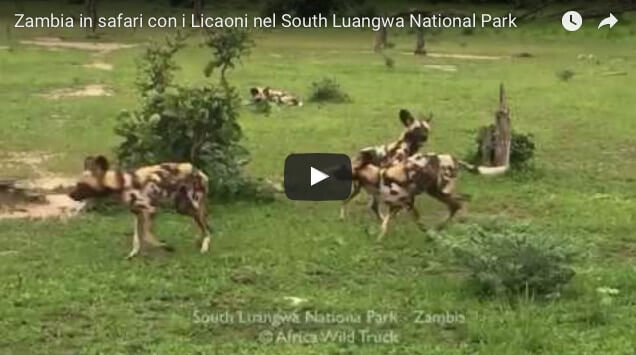 Zambia in safari con i Licaoni nel South Luangwa National Park
Un raro avvistamento in stagione delle piogge
Zambia in safari con i Licaoni nel South Luangwa National Park, una muta di 23 licaoni in attività durante un game drive mattutino.
Il Licaone, (african wild dog o Cape hunting dog) è  il più efficiente e temibile dei predatori.
La sua intelligenza, adattabilità e opportunismo ne fanno anche uno degli animali più affascinanti da incontrare.
L'evoluzionista e sociobiologo Edward Wilson ritiene che i livelli di cooperazione ed altruismo riscontrabili nei licaoni siano rintracciabili solo negli elefanti e negli scimpanzé.
Inserito nella THE IUCN (International Union for Conservation of Nature) RED LIST OF THREATENED SPECIES il Licaone è il carnivoro africano più in pericolo di estinzione. Circa 5.000 individui sopravvivono ancora nei Parchi Nazionali dell' Africa sub-sahariana in mute che raramente superano i 30 esemplari.
Il naturalista ed etologo Hediger ha definito il licaone «il super animale da preda»