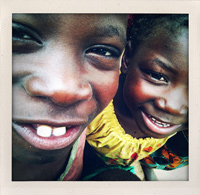 Africa through iPhone is a photographic project by Stefano Pesarelli, that he has been carrying on since May 2010, in collaboration with FotogriPhone, the most important Italian blog on iPhoneography. Original, creative and never trivial, the aim of Africa through iPhone is to send to the web instant shots live from Africa taken, processed and sent with an iPhone. A photographic project to give voice to the African stories we experience, to the curiosities and many voices that Stefano meets on his way. The project was included within Shoot4Change, a no profit organization with the aim of giving birth to stories and social reportages, of which Stefano is a member photographer since 2010.
Taking photographs to change things. A great goal, to which the photographic culture definitely greatly contributes.
Many articles in press and online dealt with it: La Stampa, many Blogger and not last – a Gallery on Repubblica.it. The exhibition Africa through iPhone was hosted at Le giornate della fotografia (The days of photography) organized by FIOF (International Fund for Photography) in 2011 within the photographic kermesse R-EVOLUTION.
The first book of Africa through iPhone is now on sale on Blurb, in Italian and English, with preface by Attilio Lauria, FIAF professor.
To keep up with the latest shots of Africa through iPhone:
The dawning of photography had a ritual of exposures and clicks, laboratory exercises and alchemies that gave the reproduced image a distinctive feature. Nowadays, with digital cameras, we have tools and devices at our disposal that in many ways made disappear that sensation of uniqueness.
I believe that the iPhoneography, which is the art of taking pictures with an iPhone, together with new technologies, has probably made this uniqueness possible. It might just well be a modest illusion and maybe we should investigate further but it's certain that a new photographic language has born and has rendered contemporary photography so communicative.
Africa through iPhone is a wide photographic project tending to combine the reality and the stories of a continent with this new photographic language in order to create tangible and communicative images

Stefano Pesarelli