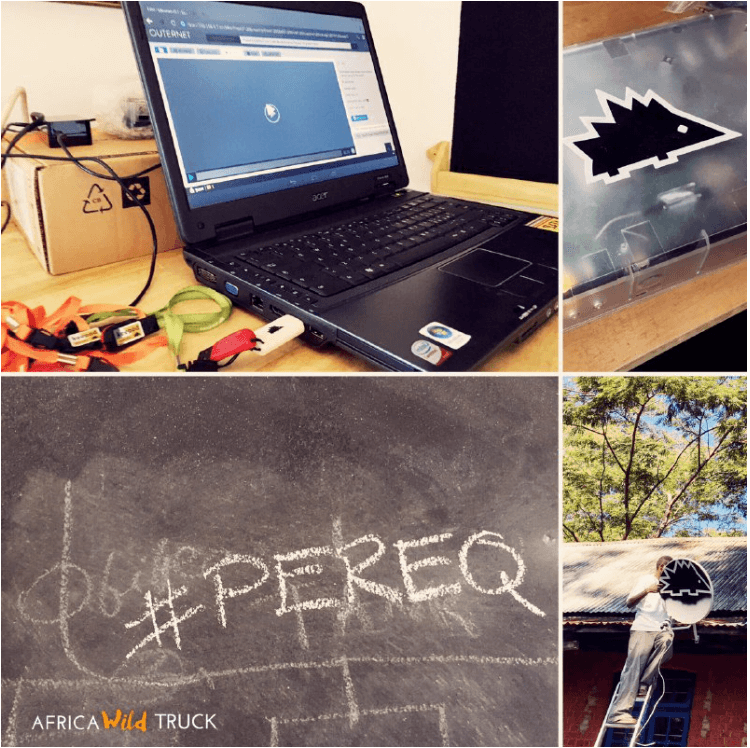 Keepod point in Mulanje? Done!
Some Tweets, a couple of WhatsApp to find a computer, a brief exchange of e-mails and then the meeting with Carl Meyer, the legendary founder of Source IT Solutions "the first to deploy Keepod Outernet together, to provide access in Malawi to information and technology to those who have never had before ".
On a cold June morning, we met at AfricaWildTruck headquarter in Mulanje and we started the installation of a Keepod point: we set a satellite dish on the roof that will allow us to access the contents of Outernet, a library Free open source for everyone and without the need of an internet connection. Outernet = Humanity's Public Library. The most important information from the web broadcast to the entire world from space for free.
Carl explained that the inspiration for the Keepod Malawi project was the story of William Kamkwamba (The boy who harnessed the wind): "in 2001, Malawi has experienced a severe drought, and William and his family could not irrigate fields so to fix it went into a library where he read a book called "The efficient use of energy" learning to build a windmill. From there he began to pump water and irrigate the fields. " Carl added, "if you look at the history of William, imagine if we were able to give people in similar situations access to the largest library in the world, what could they achieve? Where could we bring the Malawi over the next five to ten years ? "
Excited by the words of Carl, we continued setting up your computer, connect to Outernet and finally started the use of Keepod an operating system on portable USB stick, secure, easy and fun. Nicknamed the "personal desktop" Keepod is simple to use and designed to turn any computer into a personal device.
Now everything is installed! The Keepod point is ready! School students near the offices, school personnel, organizations and individuals with whom we are in contact can access this sea of ​​information directly from space, for free! Do you remember our project "A library for Mulanje"? Good. It is now ready and accessible to all, to be a cultural landmark in the area Nswadzi, Mulanje.
Do you want to help? Share this page with your contacts and social networks. If you plan to visit us can take with you a laptop program that you no longer use to increase access to our stations Keepod or a new Keepod point or just give us your books in English. Can you give us a donation to buy new sticks Keepod or attend a Voluntourism program! The benefits that a Keepod point can bring to the community and the environment are immense!
A big thank you to Carl Meyer for his enthusiasm and to Nicola and Elena together with Rebecca (10 years) and Giacomo (13 years) that decided to fundraise during Christmas for supporting us with a donation!